Its a Big Business, but a Small World!
Why do some of the most successful organizations choose — and return to – Transportation Supply Chain Professionals, Inc. for their executive recruiting needs?


The object of our journey is to find the right company for the right candidate.
So, no matter what you call us…..we like to think of ourselves as partners with each and every Candidate and Client.
Our team is composed of recruiting professionals who are among the most experienced in the industry. Our recruiters average more than 15 years of recruiting experience. Leveraging a thorough understanding of our market experience, a vast network of contacts and active memberships in numerous industry organizations, we ensure that you See the Right people; candidates with proven ability to make an immediate bottom-line impact.
Our reputation for helping top talent make smart, strategic career moves, ensures the hiring managers to see experienced, exceptionally accomplished candidates to make your team even stronger.
Before beginning a search assignment, we work with you to gain a clear understanding of the skills, experience and intangible traits you require. Based on this information, we research potential candidates through our extensive referral network. This network allows us to also locate many highly desirable candidates not currently on the job market.
The right team for the right job
Employers Executive Search Clients around the United States depend on our executive search services when they want to see the right people.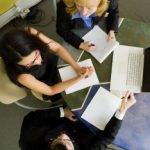 During the search process, we identify highly qualified candidates; we screen them, evaluate their credentials and investigate their references. Only those candidates who survive the rigorous screening process will be referred for your consideration. We stay in touch with the candidate through the interview process, salary negotiations and relocation.
After the candidate is hired, we continue to the contact to be sure they are settled in during the transition.
Success Oriented
TSCP expresses a consulting style that is motivated by the setting of specific goals we effectively accomplish. We formulate detailed plans for reaching our objectives using the study of the importance of an individual in the success of an enterprise.
What this means to you: is a qualified employee, at work in the job for which they are qualified, and hopefully encouraging longevity and a lower turn over ratio for the company.
Goals Are Different: to achieve our goal of 100% search Completion, for Temp, Temp to Hire, Consulting or Direct Placement.
Selective and Realistic: Our Consultants only accept searches they know they can complete. Every client wants an A-player, however not every potential client is an A-opportunity. When expectations do not match the reality of the market, we politely pass.
Honest about Bandwidth: Our Consultants limit themselves on the number of job orders to ensure outstanding service to each client.
Know our Job: Our Consultants are hunters. We find executives who have a demonstrated history of excellence, and sell them on your opportunity.